Feb 18, 2014
APPLES
,
BUTTERNUT SQUASH
,
CULINARY COURT
,
FOOD TRUCKS
,
GTA HOME SHOW
,
INTERNATIONAL CENTRE
,
MISSISSAUGA
,
RECIPE
,
SALAD
,
SQUASH
,
Tawfik Shehata
,
Toronto
No comments
It's that time of year folks, time to see what's trending this season at The GTA Home Show (Feb. 20 - 23 at the International Centre). This year, the show will feature an entire section dedicated to you stomach! Culinary Court will be the perfect place to treat your taste buds. Fuel up with good eats from Canada's favourite food trucks while getting some incredible cooking tips on the Culinary Court Cooking Stage!
One of the experts on our stage will be Tawfik Shehata, Executive Chef The International Centre. As a preview of his presentation, he's given us the delicious recipe below, take a look and get choppin' tonight!
Roasted Squash Salad with Ontario Honeycrisp Apples, Toasted Squash Seeds and Goat Cheese in an Apple Cider Vinaigrette
Ingredients:
1 Medium Butternut Squash, peeled and diced into 1" cubes, seeds reserved

2 Ontario Honeycrisp Apples, skin-on, cut into matchsticks

¾ cup Apple Cider Vinegar

¼ cup Honey

2 tbsp. Butter, melted

¼ cup+2 tbsp. Olive Oil

½ bunch Thyme, leaves picked

8 oz. Fresh Goat Cheese, crumbled

Kosher Salt and Freshly Ground Black Pepper
Method:
For The Roasted Squash:
Preheat oven to 375
¡
.
In a large mixing bowl mix half a cup of the apple cider vinegar, honey, melted butter and a pinch of salt and freshly ground black pepper. Whisk to combine. Toss the diced squash in the apple cider mixture, transfer to a baking sheet. Roast for approximately 20 minutes basting regularly with remaining cider mixture. Reserve bowl.
For The Roasted Seeds:
Remove seeds from connective membrane; soak in a bowl with water for about 5 minutes. Strain and turn out on a clean dish towel. Fold the dish towel and rub the seeds in between to dry and remove any excess membrane. Toss seeds with the 2 tbsp. olive oil, a pinch of salt and black pepper. Lay in a single layer in a skillet or baking sheet and bake in the oven at 375
¡
for 8-10 minutes or until seeds are golden. Drain on paper towels.
To Make the Vinaigrette: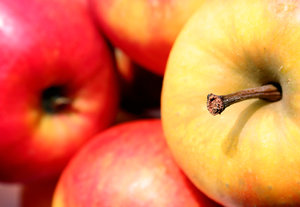 In a small mixing bowl combine the remaining ¼ cup of apple cider vinegar with a pinch of salt and pepper, whisk to dissolve salt, then while continuing to whisk, drizzle in the remaining ¼ cup of olive oil. Add picked thyme leaves just before serving

.
To Assemble:
Return squash to the bowl used to make glaze. Add thyme leaves to vinaigrette. Dress with the vinaigrette (you may not need all of the vinaigrette), toss, check seasoning and arrange on eight plates or a large serving platter. Toss the apple matchsticks in the bowl and use to garnish the squash. Sprinkle the crumbled goat cheese and the roasted seeds over the top.
_______________________________________