Feb 14, 2014
On Valentine's Day, more than 230 million of them are estimated to be delivered to sweethearts across the world. It's the single biggest day of the year for the rose.
But why just gaze upon roses once a year – when you can grow your very own to admire in the backyard? It's easy to grow roses that flourish in the South, according to Chris Van Cleave, aka the "Redneck Rosarian".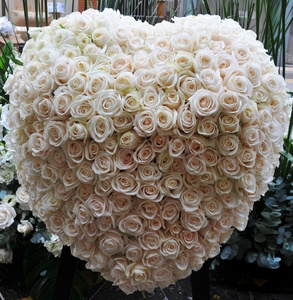 On his popular blog he offers tips, including how to help roses survive the winter:
This year, winter winds are blowing at a gale force in Alabama and the polar vortex of 2014 is taking its toll on my garden. All this cold has me thinking about winter rose care. It is important to remember to trim back your roses to about waist high to prevent winter wind damage from affecting the canes and rocking the rose back and forth, damaging the root system of the rose, which can ultimately kill the shrub. This process should not be confused with pruning which requires a much more severe cut back of the rose. This will merely prevent wind rock from occurring.
Our shrubs of Benjamin Britten, a beautiful orange red David Austin English rose grows quite tall in summer, often reaching 9ft high! This rose is very thorny, so it's important to "suit up" with long sleeves and gauntlet gloves to complete the task of trimming them down to a good size for winter.
______________________________________________________
T
o see photos and read more of his tips, click here to visit his blog! Or, better yet, come see Chris on the Southern Living Plant Collection Stage at the Show on Saturday and Sunday.
BIRMINGHAM-JEFFERSON CONVENTION COMPLEX
SPECIAL VALENTINE'S DAY OFFER
Looking for perfect Valentine`s Day gift?

Click here

, print, and wrap show tickets for your loved one!